Pearl Nano SRT encoding powers live auction broadcasts across four time zones
Heffel Fine Art Auction House, the world's premier seller of Canadian art, needed a way to virtually bring together its Vancouver, Toronto, and Montreal offices for its semi-annual auction events. As an intuitive and high-performance SRT encoder, Pearl Nano enabled a hybrid auction with real-time bidding between the multiple offices, almost 2,500 miles apart – all while meeting the prestigious art dealer's exacting standards for video quality.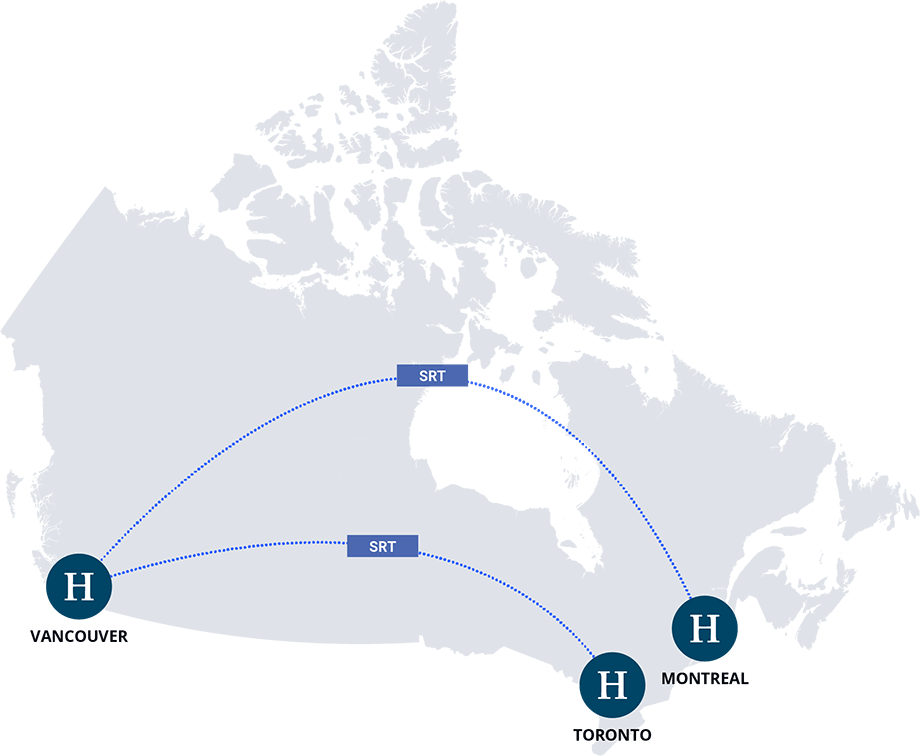 The problem: Connecting three remote locations for a hybrid event
Heffel auction house wanted to host a hybrid auction event to include remote bidding participation with its Vancouver, Toronto, and Montreal offices. In the past, Heffel organized large, centralized auctions semi-annually. Heffel's consignment specialists would travel from their offices to the event and participate in the bidding in person.
Facing travel restrictions and physical distancing requirements, Heffel turned to live video technology for a solution. The idea was to build a video bridge to enable simultaneous bidding across all three offices.
As a premium auction house, Heffel has high standards when it comes to video production value. Low latency and high fidelity were the key requirements for the remote contribution solution, so high compression solutions such as video conferencing were ruled out early on.
The information services department in charge of the event production settled on Secure Reliable Transport (SRT) technology for remote video contribution. SRT is an open-source video transport protocol that can deliver a high-quality, low-latency video experience across the public Internet. To take full advantage of SRT contribution, the team needed a reliable SRT encoder at each office location.
The solution: Pearl Nano, the perfect-fit remote contribution encoder
The team at Heffel went with Pearl Nano video encoder to power SRT contribution. The head of information services, Goran Urosevic, chose Pearl Nano because it was easy to preconfigure and ship to the Toronto and Montreal offices. Heffel's staff at all of the satellite offices found setup to be intuitive:
"Nano's compact and rugged design made it easy to ship. At the other end, all the teams had to do was connect the camera and the audio system to the encoder and power it on."
Pearl Nano is the solution for remote SRT contribution
Easily connect remote locations over high-quality, low-latency video with Pearl Nano and SRT. Visit the Pearl Nano page for full product details.
Discover Pearl Nano
The setup featured four Pearl Nano units at the Vancouver production studio receiving dual SRT feeds from the Toronto and Montreal offices. The Vancouver studio produced a low-latency live stream for the consignment specialists at the satellite offices to watch and participate in the live bidding. By adjusting the SRT settings, the information services team achieved sub-four-second latency for the live stream.
The results: Outstanding remote contribution for a remarkable hybrid auction
Reaffirmed brand image
Heffel's brilliant reputation comes from continuously striving for excellence in all aspects of work. By choosing Pearl Nano for reliable, high-performance video contribution, Heffel delivered a hybrid auction event experience to match its high standards and the audience's expectations.
Improved auction performance
The low-latency contribution solution delivered by Pearl Nano and SRT helped Heffel craft an experience similar to that of an in-person auction event, allowing bidding thousands of miles apart in real time. By using modern technology, Heffel preserved the sense of excitement and urgency of an in-person auction, and set new records throughout the event.
Higher cost-effectiveness
The Nano-powered solution helped Heffel lower operational costs for each auction event. The ability to participate remotely freed the satellite office consignment specialists from traveling to a central auction location, saving time and money associated with travel and logistics.
Peace of mind for the IT team
The option to preconfigure and ship Pearl Nano units to the satellite office for a simplified setup experience meant one less thing to worry about for Heffel's information services team. In addition, the device's proven reliability made Urosevic feel confident in the remote contribution solution during such a high-stakes event.
"Pearl Nano just works from the moment you turn it on to the moment you power it off. We had zero issues during the event."
About Heffel Fine Art Auction House
Canada's art market leader, Heffel Fine Art Auction House has an outstanding reputation for handling exceptional works from all around the world. With the largest and most experienced team of specialists in the country, Heffel's bi-annual live and hybrid auctions and monthly online auctions attract collectors from around the world.