Managing a single device is simple. But many devices, spread throughout a facility or across multiple locations? That's a challenge – and one we're addressing with the release of Epiphan Cloud.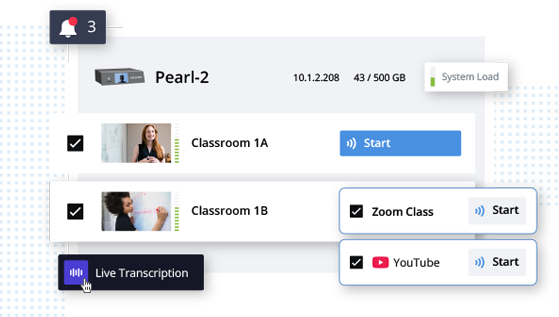 One platform for all your Epiphan devices
Epiphan Cloud makes it easy to monitor and manage all your Epiphan devices, whether you use Pearl hardware encoders for streaming and recording or LiveScrypt for automatic real-time transcription.
Discover Epiphan Cloud
What is Epiphan Cloud?
Think of Epiphan Cloud as your command center for everything Epiphan. It's where you can go to get a birds-eye view of Epiphan hardware you own – Pearl-2, Pearl Mini, Pearl Nano, and LiveScrypt – with access to essential device statistics and a host of remote control and configuration features that'll save you tons of time.
This is something customers who operate multiple Epiphan devices have been asking for, and it's here. What can you expect from Epiphan Cloud? Let's go over some of the biggest features.
1. Assess your devices at a glance
Remote accessibility is a big advantage of using an Epiphan Pearl or LiveScrypt system. Wherever in the world your connected Epiphan device is located, you can log in to monitor, configure, or control it. But until now there hasn't been a convenient way to do the same with multiple devices.
Epiphan Cloud takes out the legwork of multi-device management with a sleek and comprehensive dashboard that displays key information about all your registered devices. You can see at a glance:
Operational status: With a Pearl hardware encoder, quickly determine whether it's idle, streaming, recording, or streaming and recording simultaneously. For LiveScrypt, easily tell if the system is transcribing or standing by.
Device info: Serial numbers, IP addresses, and installed firmware version are easy to confirm with Epiphan Cloud.
System health: Stats like system load, temperature, and uptime offer insight into the condition of a device.
Available storage: With easy confirmation of how much storage space is left on a device, you can ensure you've transferred all the files you need and make room for another recording before your next event starts. Epiphan Cloud also shows activity in automatic file upload queues – how many files are being uploaded, their combined size, and how much longer a transfer will take.
If any of these statistics are more important to you than others, Epiphan Cloud's customizable UI has you covered. The drag-and-drop interface makes it easy to rearrange elements to put your most essential stats front and center.

2. Control and collaborate in the cloud
Epiphan Cloud also offers control over Pearl systems' encoding settings for live streaming and recording as well as a view of connected audio and video sources. You may still want to dive into Pearl's web-based UI for more precise control, but having key encoding settings and input and channel previews all in one place can be a huge timesaver.
For any paired LiveScrypt devices, you get access to all the settings you need to start transcribing, a view of real-time transcriptions, and an audio meter for confidence monitoring and audio optimization.
Of course, managing a fleet of devices is a team effort. That's why we built Epiphan Cloud with collaboration in mind. Anyone on your team who's part of your shared Epiphan Cloud account will be able to monitor or interact with a registered Pearl or LiveScrypt system from any location.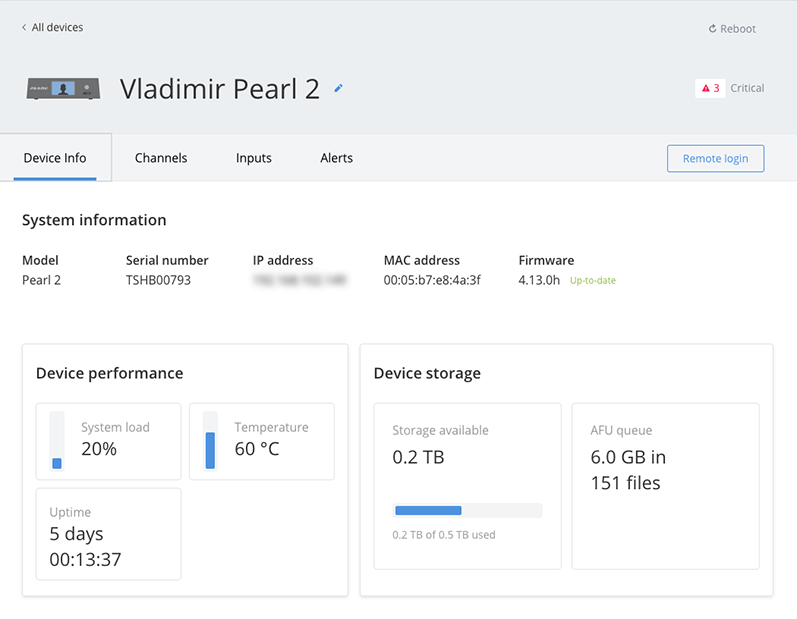 3. Save time with batch actions
Epiphan firmware updates come packed with performance enhancements and even brand-new features like Kaltura/Panopto integration and SRT support. Naturally, you'll want the benefits of the latest updates across all your systems. But it can take awhile to make that happen when you have dozens or even hundreds of devices. With just a few clicks in Epiphan Cloud, you can download and install the latest upgrades to your Epiphan solutions simultaneously. That'll save some IT time.
That's not the only batch action Epiphan Cloud offers. You can also start or stop streaming and recording on multiple devices – which complements yet another convenient feature: the ability to predefine streaming destinations and quickly apply these to any registered device.
4. Resolve production issues quickly
It's a fact of technology: errors happen. A fast resolution is the best response. That takes awareness, and you can't have eyes on everything at once or all the time.
But Epiphan Cloud is always watching. A refined alerting system will notify you of any issues so you can act quickly. The platform doesn't just sound the alarm; it also dispenses enough detail to help you determine what the problem is, and even provides a list of probable solutions to support swift action.
You can fine-tune this system to alert you only to particular events, such as a change in device status from online to off, a lack of available storage, or a drop in uplink bandwidth. In any event, Epiphan Cloud logs every error. This way you can investigate issues and take action to prevent a repeat occurrence.
Epiphan Cloud and Pearl firmware update 4.13
Epiphan Cloud is a big step forward for our solutions. A lot of effort went into reworking Epiphan products to give users access to key device statistics and enable control over groups of systems. That's why Epiphan Cloud requires Pearl firmware update 4.13 for full functionality.
There are plenty more reasons to install 4.13 for Pearl, even if you don't own a fleet of them:
Network diagnostics and troubleshooting tools via the touch screen or web-based UI – speed test, ping, trace route, and more
File upload scheduling
Support for DHCP Options 82 (FQDN) and Dynamic DNS (DDNS) support
NDI resource discovery across subnets and external networks (Pearl-2 only
SHA-256 and SHA-512 hashing algorithm support for HLS (push) and MPEG-DASH stream authentication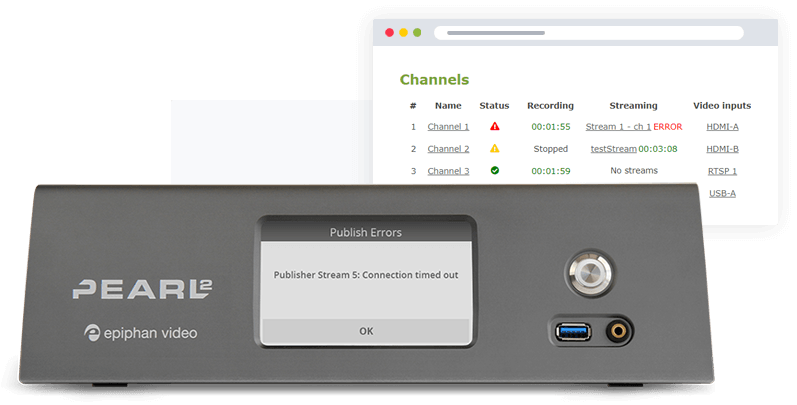 Manage Epiphan hardware in the cloud
Looking to learn more about how Epiphan solutions and Epiphan Cloud work together? Check out our Epiphan Cloud product page, or contact us. Our product specialists are always happy to answer questions about our solutions or arrange for a one-on-one demo.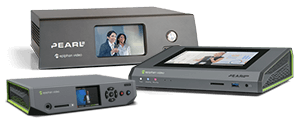 Expand your Epiphan fleet
Bolster your video recording and streaming capabilities with Pearl-2, Pearl Mini, or Pearl Nano hardware encoders – enhanced with Epiphan Cloud.
Compare Pearl Systems