In a matter of weeks, organizations worldwide had to learn how to go from running in-person events with live attendees and speakers to virtual ones with all-remote guest lineups. That includes us at Epiphan. In short order, we had to figure out how to continue connecting with partners and customers in a meaningful way, at a time when in-person meetings weren't possible.
Our goal was to create dynamic, highly polished live productions, featuring multiple remote guests
From the start, we knew we wanted to focus on publishing live video (as opposed to pre-recorded segments). We felt that the immediacy of live video would facilitate a more meaningful online experience for our audience. Another requirement was to bring on multiple live guests and interact with them in real time during a stream.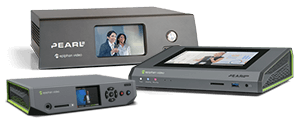 Your virtual event production assistants
Stream and record your virtual events using Pearl family hardware encoders. All Pearl systems support SRT encoding and decoding, making it easy to add guests to your live stream
Get product details
Here's what we learned
1. Verifying the quality of your remote guest's connection and gear setup is critical.
Be sure to put time and effort into testing your remote guests' setups as they are rarely perfect. Additionally, not every guest is going to be tech-savvy, so be patient. Here is what you can do:
Schedule a call before the event to test the guest's audio and video setup and their Internet bandwidth. Walk your guest through how to present materials virtually and discuss expectations.
If your guest isn't well equipped, and budget allows, ship guest speakers the high-quality equipment along with setup instructions.
Consider looking into a quality web camera, a desktop USB microphone, some LED video lights, and optionally a backdrop kit.
2. Screen capturing a video call provides more creative control than streaming directly from video conferencing software.
To stream multiple participants interacting in real time, we first turned to video conferencing apps with direct Real-Time Messaging Protocol (RTMP) streaming functionality (e.g., Zoom). We quickly realized this method doesn't provide an appropriate level of control over the final program: participants appear in random order, the app interface limits the stream's visual appearance, and adding graphics and titles is virtually impossible. Moreover, the producer has no control over the encoding settings.
Instead, we captured the video conferencing window directly from a host computer by connecting to Pearl-2 via HDMI. Using Pearl's web UI, we duplicated, cropped, and arranged participant video sources exactly how we wanted, including participant screen sharing. Pearl-2 also allowed us much more control over the encoding and streaming settings than any conferencing application.
3. Including additional dynamic elements like titles and media playback makes virtual event streams feel much more polished.
Switching exclusively between "talking heads" and screen sharing can make an event feel lackluster. Inserting small video clips like stingers and countdowns enhances the viewing experience, but incorporating these elements into a live stream can be tricky. Playing back media directly through your conferencing software's screen share feature isn't ideal because most video conferencing solutions feature lower frame rates and higher video compression.
We were able to playback video clips by connecting a computer to Pearl over HDMI or NDI (Network Device Interface). Similarly, we added live titling via NDI using NewBlueFX's Titler Live 4 Broadcast software, cueing up our titles manually on the host computer during events.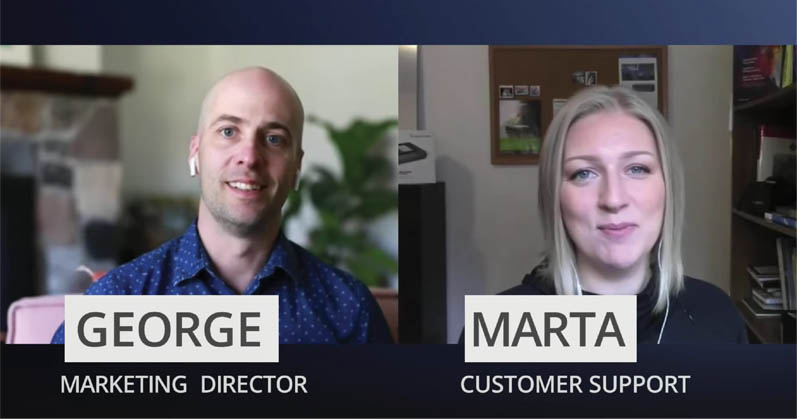 4. Using SRT streaming protocol to bring on remote guests yields substantially better audio and video quality than conferencing software.
As time went on, we realized that capturing video conferencing signals yielded subpar results due to high audio and video compression levels. Fortunately, we soon added Secure Reliable Transport (SRT) protocol support to our Pearl encoders. SRT allows high-quality, low-latency streaming even over unpredictable networks.
Implementing an SRT contribution workflow was a significant breakthrough in audio and video quality. Video conferencing compression no longer hindered the guest's audiovisual signal. They could now take full advantage of professional camera and microphone quality by connecting them directly to an SRT encoder (a Pearl system in our case). It's worth noting that real-time communication between parties does not happen over SRT; backchannel communication using a voice call is required.
Because this streaming setup requires an additional piece of equipment (an SRT encoder), it may prove to be a challenge for non-technical users. For mission-critical events, pre-configuring and shipping SRT-ready units is an option.
5. Setting up a virtual green room helps prep remote guests and facilitate line production.
With a lineup of multiple guest speakers, virtual event line production becomes a delicate matter. You want to be able to call in the right guest at the right time, yet having all of your guests wait on a single "live line" can lead to potential mishaps.
Set up a separate video call and invite them there about 30 minutes before their live appearance. Use this time to help them get situated with a line producer who can walk them through housekeeping details. When it's time for them to appear live, direct them to the live broadcast line.
6. Enabling real-time output monitoring allows hosts and guests to feel more confident.
The ability to monitor the stream in real time provides peace of mind. We created a separate program feed channel on Pearl and looped it back into the video call host computer using an AV.io capture card. Hosts and guests were able to see the outgoing program directly on the video conferencing call.
7. Creating backup scenarios and redundant paths increases your chances of success
Continuous practice with virtual event production helped us discover potential points of failure and come up with contingency plans. For example, to prevent published stream loss, we always record locally on Pearl for backup. The local recording also provides a higher quality video-on-demand (VOD) asset. Additionally, by taking advantage of Pearl's multistreaming capabilities, we can diversify our streaming destinations. If our primary CDN has an outage, we can direct our audience to a secondary CDN.
We've also built additional layouts that we could switch to in case of technical difficulties. For example, if a live guest drops off unexpectedly, leaving an empty slot, the producer switches to a backup layout without said guest. Likewise, in case of video input or network failure, a "technical difficulties" layout pops up, encouraging viewers to stay tuned.