Bethune-Cookman University (B-CU) installed 36 Pearl Mini hardware encoders throughout campus to allow faculty to record lectures from the classroom. With its direct Panopto integration and simplified controls, Pearl Mini was the clear choice for lecture capture and other video applications.
The need: An intuitive classroom lecture capture solution for distance learning
Like many other educational institutions during the pandemic, B-CU had to make a quick transition to distance learning. The university's Director of Client Services, Kofi Jack, was tasked with finding solutions for video capture. His main objective was to build solutions that would be non-obstructive and easy for every staff member to use, regardless of their technical ability or teaching style.
When it came to building a lecture capture solution, Jack had the advantage of starting with a clean slate. One of his first decisions was to choose the Panopto content management system (CMS) for video storage, sharing, and distribution.
Panopto includes a tool for browser-based lecture capture, which is a convenient option for recording content at home using a laptop and a webcam. However, not all instructors were used to or even comfortable recording lectures this way. For many faculty members, being able to continue teaching from the familiar classroom environment was crucial. They wanted to write on the board, use the podium, and project into the room, even if there are no students in it. Jack began looking for a classroom lecture capture solution that would accommodate this more traditional teaching style. His top priority was finding an intuitive and hands-off solution that would take little effort and technical knowledge to operate.
"Teachers don't want to have to worry about pointing cameras and technical things like volume levels. They just want to get to class and start teaching."

Pearl Mini for effortless classroom lecture capture
With Pearl Mini you can minimize lecture capture configuration time and maximize teaching time. Are you ready to level up your classrooms?
Discover Pearl Mini
Jack was also considering the student side. The classroom capture videos needed to be clear, engaging, and easy for the students to access. Jack was looking for high-quality, multi-source video capture with automatic recording delivery to Panopto to make this possible.
The solution: Pearl Mini for effortless multi-camera lecture capture
It was one of Jack's contacts at Panopto who first drew his attention to Pearl Mini. Jack's initial assessment of the unit was promising: easy to use, high-quality multi-input video capture, and native integration with Panopto. A detailed product demo from Epiphan's support team helped seal the deal.
By fall 2020, B-CU had 20 classrooms outfitted with Pearl Minis for lecture capture. Each Pearl Mini captured video from two HD cameras, a computer source, and audio from a ceiling microphone. Several science labs also featured a document camera as a video source.

The Client Services team registered each Pearl Mini inside Panopto, so each device became directly linked to the CMS. To begin recording, a faculty member would simply log in on the Pearl Mini touch screen using their Panopto credentials and press start. After a session is complete, the lecture automatically uploads to the respective course folder in Panopto.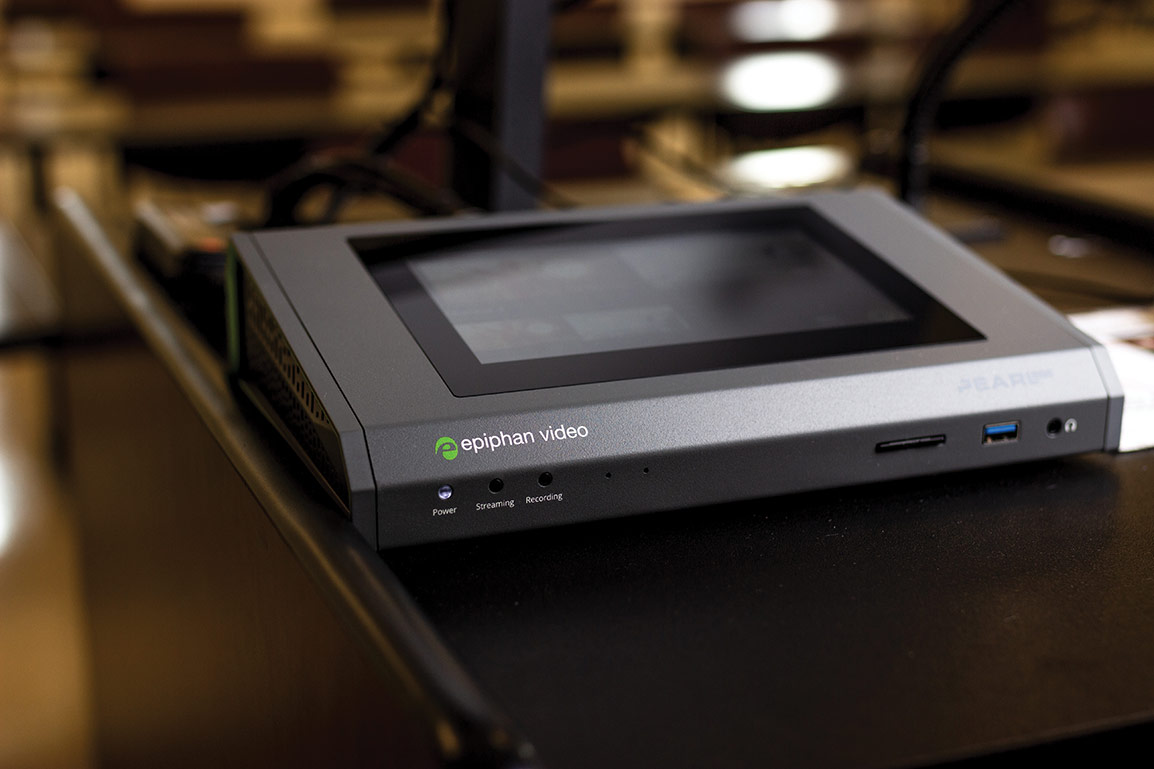 Results: The hybrid experience beloved by teachers and students alike
Pearl Mini, together with Panopto, became key elements of B-CU's lecture capture solution. Jack's team built a solution that allowed B-CU to pivot to distance learning on time and made all the stakeholders happy.
Simplified instructor's experience
The lecture capture solution allowed instructors to continue teaching from the classroom using familiar methods, sparing them the stress of adapting to a new approach. Jack received feedback from many faculty members on how easy it is to create recordings using the Pearl Mini's large touch screen. With the units fully preconfigured and ready for operation, instructors can focus all their energy on teaching.
By taking advantage of the native Panopto integration, Jack's team could eliminate any extra steps associated with video file transfer. Lectures upload to the correct depository automatically so both instructors and students can find them.
High-quality lectures and new opportunities for students
Thanks to the lecture capture system powered by Pearl Mini, B-CU students enjoy high-quality, multi-source lecture content.
Additionally, Pearl's streaming technologies present new opportunities to future students in terms of course offerings. These may include the flexibility of an online or hybrid course, the engagement of a live remote guest speaker, or the enrichment of a joint course or event with another university.
Hassle-free implementation and maintenance for IT
The B-CU Client Services team thought every step of working with Pearl Mini was straightforward, from device installation and setup to operation and maintenance. Although the fleet of Pearl Mini hardware encoders is spread throughout campus, the client services team can save time by managing all units without leaving their seats thanks to Pearl's remote access capability.
"The implementation process couldn't have been more seamless for our staff and faculty. I would definitely recommend this solution for classroom lecture capture to other educational institutions."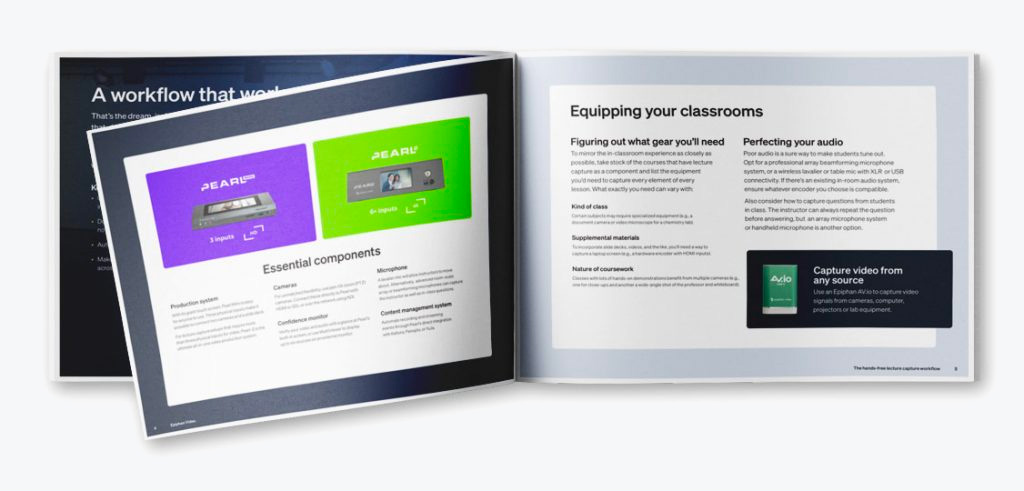 Get our lecture capture design guide
Learn how to deploy user-friendly solutions that anyone can grasp and create high-quality lecture recordings that engage your students. Download now!
Bethune-Cookman University
Bethune-Cookman University (B-CU) is a private historically black university in Daytona Beach, Florida. Bethune-Cookman University is affiliated with the United Methodist Church. The primary administration building, White Hall, and the Mary McLeod Bethune Home are in the National Register of Historic Places.