So why all the fuss about the Panopto Video Content Management System (VCMS)? Panopto is an industry-leading VCMS / online video portal for businesses and educational institutions. Its comprehensive features' list includes video recording, live streaming, video editing, built-in integrations, as well as tools to manage and distribute video content securely across organizations and the Internet with plenty of analytics.
Most predominately used in education with popular Learning Management System (LMS) integrations, Panopto is a Software as a Service (SaaS) Video Content Management System that's hosted in the cloud.  Elastic scaling adjusts as your usage and video storage needs change. Free mobile apps are also available. There's the Panopto Mobile app for iPhone and iPad, as well as the Panopto for Android app.
Pairing Panopto with fully integrated, hardware video recording equipment is the best way to get reliable, professional looking video recordings for corporate training, lectures, and secure live event streaming.
Panopto features out-of-the-box
Most notable features include in-video Smart Search of all video assets across the library, multiple-source recording, webcasting, customizable interactive multiple-view player, auto-synchronization and indexing of slide presentations, custom thumbnails, a video editing tool, quizzing, captions, analytics, bulk uploads, and more. Uploaded content is saved in Panopto's secure servers where administrators can define content access rights and privileges. Plus Panopto has built-in integrations for popular LMSs, CMSs, and CRMs.
Here's a breakdown of the key Panopto features included in the core product.
Equip your campus with best-in-class video solutions
Meet your school's video production needs with a lineup of flexible and scalable hardware for video capture, streaming, and recording – all centrally managed. Perfect for lecture capture, online learning programs, and more.

Panopto's VCMS
Panopto's Video CMS is an end-to-end video platform solution that offers a secure, web-based video portal in the cloud where users can create, manage, and live stream video content. If features video creation and editing, in-video searches, drag and drop video uploading, transcoding, live streaming, interactive video players, quizzing, video analytics, captioning, and the ability to custom brand your video portal.
Recording video
Recording multiple video sources directly from within Panopto. Choose from an unlimited number of camera sources, slideshows, and capture a live computer screen in full HD. For all video recordings, a table of contents with video thumbnails is automatically generated for easy navigation. Content from slide presentations, notes and comments are also automatically indexed for search. You can schedule recordings or start unscheduled ad hoc recordings at any time. External hardware encoders like those from Epiphan Video are fully supported for better quality capture. When your session ends, recordings upload automatically to your folder in Panopto. Pre-built video conferencing integrations let you record and share video assets from these video conferencing solutions: BlueJeans, GoToMeeting, Skype for Business, and Zoom. Panotpo administrators can setup single sign-on (SSO) ID management to control access to the recorded content, including: Google Apps, oAuth, SAML, and Active Directory. Other integrations are also available for a seamless video recording experience.
Live streaming
Live stream multiple sources to an unlimited audience who can watch using any web browser. Panopto automatically synchronizes all sources and records the stream as it broadcasts. Webcasts are transcoded and made available for on-demand viewing in the library. All the common streaming protocols are supported, as well as secure streaming. Distributed recording of live streams from presenters in different locations is also supported. You can restrict access to specific people or groups in your organization, and require viewers to log in before watching the stream. Free integration with Hive Insights for real-time network monitoring during a live stream is available as a download to troubleshoot Quality of Service issues.
Uploading and automatic transcoding
You can upload existing videos and audio files to the Panopto video library using drag and drop, or upload assets in bulk. There are currently no file size limits. Videos are automatically converted for searchability and transcoded for multiple bitrates to optimize VOD playback on different devices and HTML5 web browsers. Supported upload file formats include: AVI, MP4, MPG, WMV, MOV, QT, ASF, 3GP, WMA, MP3, and M4V.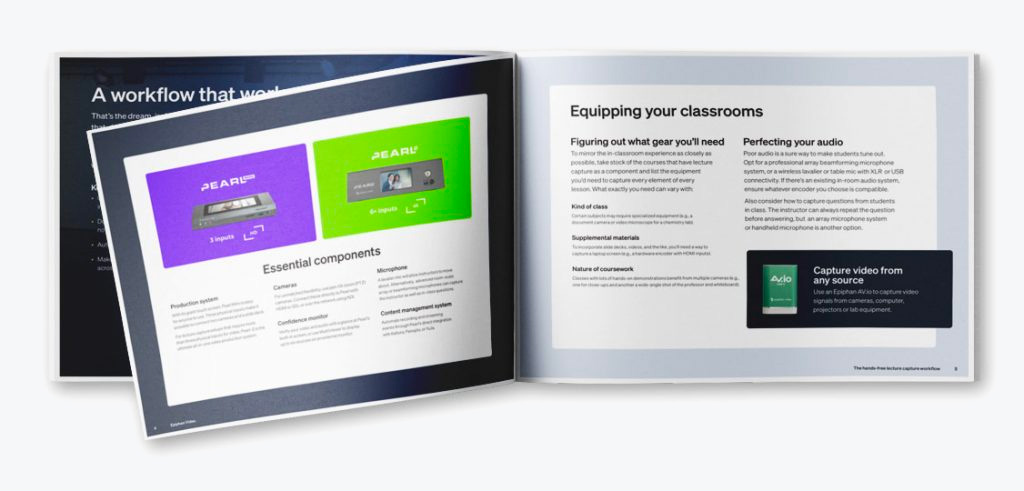 Get our lecture capture design guide
Learn how to deploy user-friendly solutions that anyone can grasp and create high-quality lecture recordings that engage your students. Download now!
Panopto Smart Search
Smart Search lets you search inside videos across your entire library. Search for any spoken word or text on the screen. Words contained in PowerPoint or Keynote slide presentations are also indexed, including the presenter's notes. Any notes viewers take while watching a video using the interactive video player are also indexed and can be searched. Smart Search indexes every video added to the content library using automatic speech recognition (ASR), optical character recognition (OCR), and slide content ingestion – so there's no need for manual tagging. The Smart Search engine works seamlessly with systems that are integrated with Panopto. Nine languages can be indexed and searched: English, Spanish, German, French, Japanese, Korean, Portuguese, Dutch, and Polish.
Interactive & customizable video players
Panopto includes interactive HTML5 video players that you can custom brand and embed on websites. For multiple-source VOD recordings, you can choose which content stream to watch and the layout. All content is synced. Panopto's interactive, embedded, and mobile video players support full HD and 360⁰ video playback. Adapative playback rates adjust the output based on factors such as available network bandwidth capabilities. Other features of the video player include:
In-video searches on any spoken word or text shown on-screen.
In-video navigation using the Panopto generated table of contents with thumbnails.
The ability to take time-stamped notes that are saved as personal bookmarks for review later.
Variable playback speed controls.
Interactivity to participate in quizzes, polls, and "choose your adventure" videos.
Multi-language caption support.
Rating and sharing videos via email and on social networks.
Built-in video editor
The online video editor lets you do basic, non-destructive edits so the original recording is preserved. You can trim heads/tails, create clips, switch between different video sources in multi-camera recordings, show machine-generated transcripts as closed captions and edit them for accuracy, and create new video assets by combining different recordings. The editor lets you sync additional slides, embed quizzes, polls, and surveys. It's even possible to embed links to web-based content like a Google Doc, as well as videos and clips from YouTube.
Interactive Quizzing
Using the built-in online video editor, creators can add quizzes to their videos like multiple choice, checkbox, and true/false questions to their videos. Enable options like displaying results and correct answers, including explanations, and whether viewers can retake quizzes. The Panopto video players support all interactive features and enhancements.
Integrations and APIs
Panopto offers free, pre-built integrations for Learning Management Systems (LMSs), CMSs, and video conferencing systems with the ability to integrate with any LTI-compatible LMS. At the time of writing this article, Panopto LMS integrations included: Blackboard, Bridge, Brightspace, Canvas, Cornerstone, Moodle, SABA, Sakai, and SAP. Pre-built video conferencing integrations are also available for BlueJeans, GoToMeetings, Pexip, Skype for Business, and Zoom. Other integrations include Hive Insights for managing live events, SharePoint, Salesforce, and InPlayer to monetize your videos.
Security
Panopto includes security protocols to protect video assets and live streams. There's login security, access controls within the video library, and secure live streaming. The login credential types supported are OAuth, SAML 2.0, Active Directory, plus some integrated LMS ID providers. Panopto also offers their own single-sign on (SSO) feature. Panopto administrators can set role-based access rights and privileges to video assets, folders, and playlists for groups and individuals to control who can view, record, live stream, upload, publish, and schedule sessions. Other security settings include strong password enforcement, password expiration, two-factor authentication with SSO, and session timeout. Panopto is hosted on a redundant cluster of networked Amazon Web Services (AWS) servers with state-of-the-art security for their data centers. Panopto also complies with EU General Data Protection Regulation (GDPR) regulations.
Analytics
With Panopto, you get video analytics and detailed reports for audience engagement and viewing behavior. From the dashboard, you can monitor the health and size of your video library. You can also connect Panopto with Google Analytics. A free integration with Hive Insights provides dashboards to monitor the quality of your live streams and audience participation. It's also possible to use Panopto's API to integrate with any existing analytics system. It's also possible to export Panopto analytic reports as spreadsheets.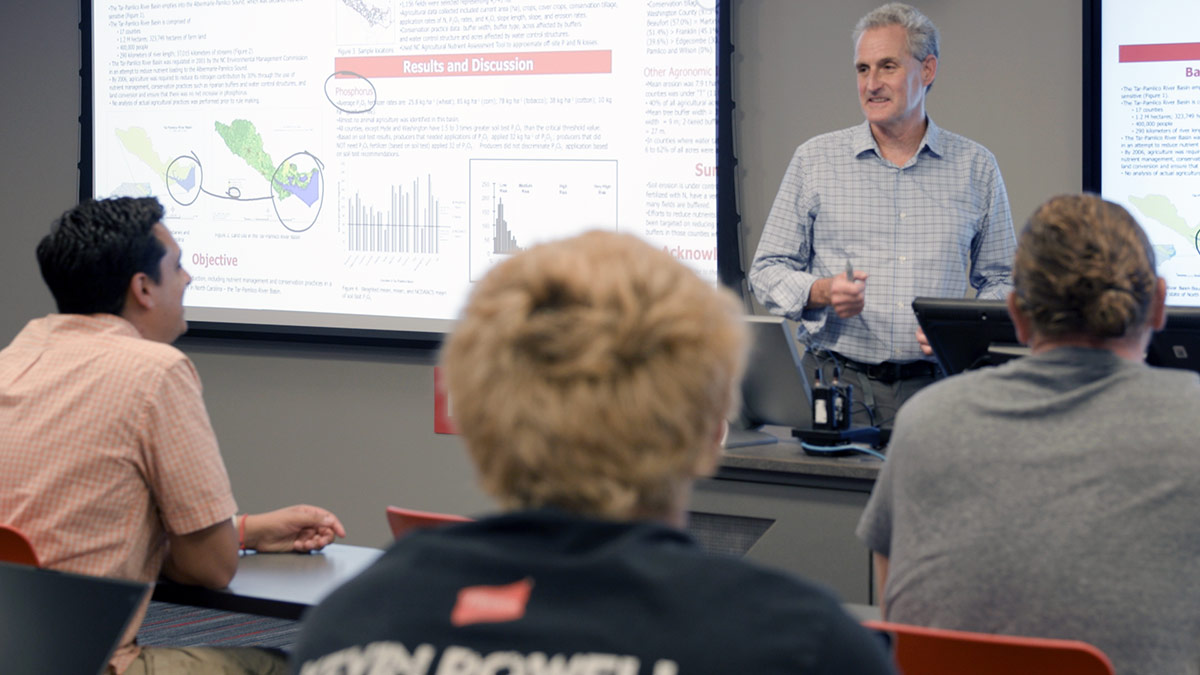 Get Inspired: How NC State supercharged 200+ classrooms
Supported by Epiphan's all-in-one Pearl production systems, NC State created a seamless lecture capture solution that covers the entire campus.
Watch video now
Why choose fully integrated video recording equipment for lecture capture?
There are advantages to choosing a fully integrated hardware encoder as your lecture capture video recording device, such as better reliability when using a dedicated device to record video. Dedicated video recording hardware also makes it less complicated for users, who no longer have to worry about setting up their laptops to capture audio and video – saving money and reducing support calls.
Dedicated video recording equipment that has full API integration with Panopto should provide a seamless and user friendly experience. Some key attributes to look for in a fully integrated hardware video encoder as a lecture capture and video recording device include:
Reliability – Ideal hardware video recording equipment is robust and reliably encodes, streams, and records multiple video sources for campus-wide capture without fail. Captured HD video (1920×1080) should be crystal-clear with crisp audio. On-board monitoring for instant feedback that your video/audio sources are all ok is also important to help ensure every lecture recording is a success.
Seamless & easy setup – Integration with Panopto should be seamless and work with what you already have. That means in-house administrators and technicians can setup and register the video recording equipment without needing outside expertise or custom coding. You want equipment that Panopto instantly recognizes and a seamless user experience so that users can schedule VOD recordings and webcasts in Panopto without added complication. Integrated remote recorder hardware should support both unscheduled (ad hoc) and scheduled sessions.
Flexibility – The hardware video encoder should support multiple video sources and pro audio so you can record and stream multiple video sources in a variety of installations, lecture halls, conference rooms, and even medical simulation labs. Instructors should be able to use any combination of laptops or PCs with HDMI outputs for presentations, HDMI document cameras, high resolution cameras, SDI or NDI video sources, and microscope cameras to name a few.
Security – Keep your information safe using lecture capture video recording devices that incorporate network security protocols like 802.1x to authenticate the device on local networks, LDAP for user authentication, has the hardened OS of a single-purpose video recording device, HTTPS support for secure administration, and supports RTMPS for secure webcasting.
User friendly – In-house video technicians and administrators need easy access to monitor the health of the video equipment directly on the device, as well as remotely using Panopto. Integrated lecture capture equipment should also have an easy on-boarding path and offer it's own remote administration options and interface for more comprehensive diagnostics and control.
Panopto – the final word
Panotpo is a VCMS solution that's quickly advancing in popularity. It offers the kind of features people are looking for in a comprehensive VCMS.
A typical lecture capture scenario uses at least two video sources, and for most schools today this is sufficient. However, the demand for high quality multi-source lecture capture is rising. When you pair Panopto with a fully integrated, hardware video recording device like the Epiphan Pearl Mini or Pearl-2 video production system, professional quality video recordings with multiple-sources is easily achievable.
Pearl hardware encoders have full API integration with Panopto, which makes it easy to schedule and manage multiple source VOD and streamed events directly within Panopto. Pearl's built-in touch screen and Admin panel allow for quick, visual event monitoring plus one touch starting and stopping of ad hoc recordings on the fly. The touch screen also enables users to authenticate for secure, ad hoc event creation directly on Pearl. Plus so much more!
For more information about Epiphan's video recording, streaming, and live video production switching equipment, visit Epiphan.com and live chat with our knowledgeable product specialists on week-days from 9 am to 5 pm (Eastern).