Since its charter in 1887, NC State University was founded on the principle of providing an accessible, advanced learning environment for its students and faculty. The latest iteration of this rich tradition: equip over 300 classrooms with lecture capture technology powered by the Epiphan Pearl.
The Challenge: Quadrupling lecture capture capacity
When speaking to the faculty and administrative staff at NC State University, it's clear how much their historical land-grant status matters. Land-grant universities were created across the United States in the late-1800s to make higher education more accessible to the average American. This tradition of accessible education lives on at NC State and requires constant upkeep to make sure the staff has the tools necessary to meet the needs of their students.
Because innovation and access are at the very core of NC State's values, they are no strangers to deploying lecture capture technology. Tony Pearson, Senior Associate Director of Digital Education and Learning Technology Applications (DELTA), recalls how in the 1990s the lecture capture initiative depended on a "Sneaker Net." Members of DELTA would walk around campus and pick up video tapes for duplication and distribution. Thankfully, the need to physically pick up and mail out tapes has become obsolete. But the demand for classroom capture has only grown since the years of Mr. Pearson's "Sneaker Net."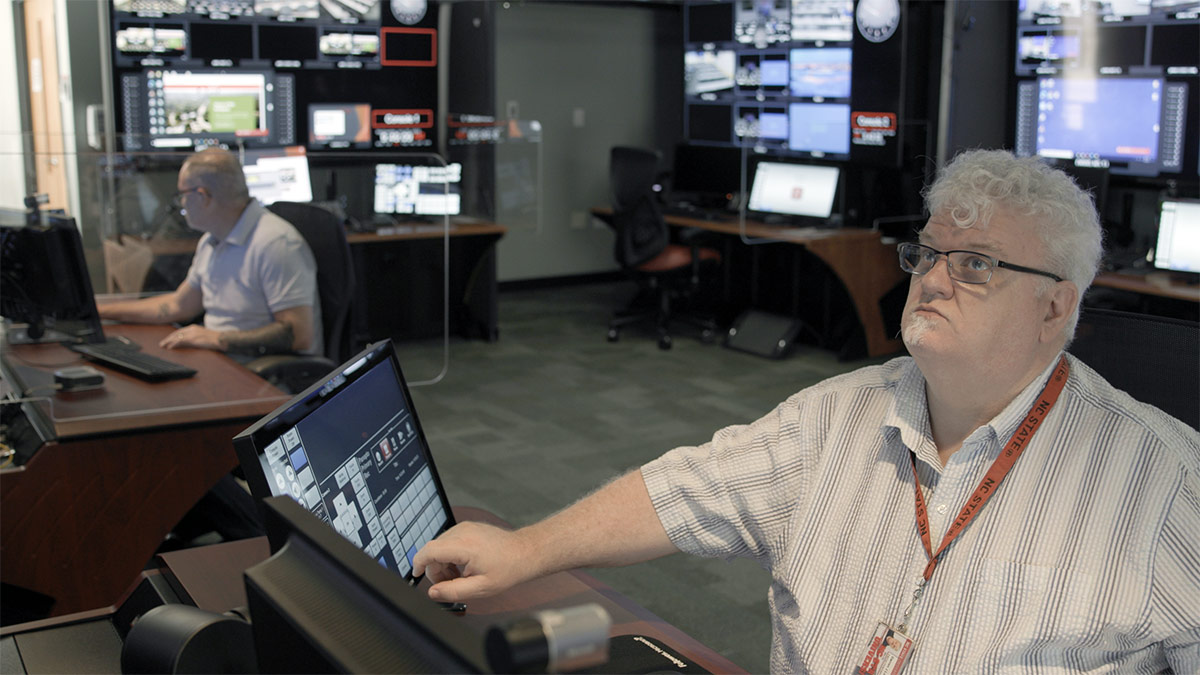 The existing lecture capture technology was primarily geared towards accommodating any student unable to attend classes physically. Given NC State's diverse student body, this might include military service members stationed abroad, international students, and students working full-time. As such, the scope of the lecture capture initiative was relatively small, with only 50 classrooms capable of streaming and recording. And it was at the professor's discretion whether or not to opt-in to have their classrooms recorded.
Year after year, however, when students submitted feedback and completed surveys, the demand for more recorded courses was consistently growing. Both in-person and online students saw it as a valuable addition to their learning experience. Even faculty members who participated in year-end surveys expressed an overwhelming desire to increase classroom capture, believing it could have a positive impact on student performance.
The idea behind classroom capture is not for it to replace coming to class, not to replace attending your courses, but instead to be another tool on your tool belt of learning technologies.
With a growing demand to provide more class recordings from in-class students, online students, and faculty members, NC State's DELTA went through an exhaustive evaluation period to find the solution that made the most sense.
Whatever they chose as their classroom capture solution, it had to:
Integrate with their existing AV infrastructure and content management system (CMS), Panopto.
Have the option to be operated remotely.
Easy to maintain without adding additional headcount.
Plus, the classroom capture solution had to make sense from a budgetary perspective.
The only product that checked all boxes? Epiphan Pearl systems.
Create broadcast-quality video anytime, anywhere
Pearl video production systems are reliable, intuitive – and fully remote controllable. Just log in to Epiphan Cloud's centralized dashboard to access these powerful edge devices from any location, enabling you to produce exceptional branded video from a distance.
The Solution: Pearl Mini provides reliable support in the face of massive demands
NC State ended up choosing Pearl Mini hardware encoders as the primary workhorse for all lecture capture setups. With its two HDMI, one SDI, and dual professional XLR audio inputs, it was the perfect choice for in-room audio and video capture. Each room included a camera source, a computer source, and audio from a ceiling-mounted microphone.
Right off the bat, NC State's DELTA staff were intrigued by Pearl's ability to integrate with all the existing and new equipment seamlessly.
You can plug [a Pearl Mini] into your AV infrastructure and expect it to work. It just works. Once you've configured it and had a setup on the network, it just works flawlessly.
Upon realizing that Pearl Mini would interact with the other components, DELTA had to evaluate it from the end-user experience. The team's idea of an ideal end-user experience was for it to be totally seamless. They didn't want the faculty to feel intimidated or overwhelmed by the technology. They didn't even want faculty members to notice it was there.
The integration with Panopto CMS delivered that seamless experience. It eliminated the need to show professors how to activate the Pearl Mini in their lecture halls. The faculty, already familiar with Panopto, pressed record just like they always did. And to accommodate any professors not yet familiar with Panopto, the DELTA team developed automated control functions through Pearl's compatibility with the Crestron Control Module. Professors could now walk into the lecture hall and begin teaching. The recording starts automatically, and the file is uploaded to NC State's LMS minutes after the lecture concludes.
With two key criteria met, the question of maintenance and monitoring still loomed largely. The DELTA team couldn't be in 300 different places at once. Well, they could be, thanks to Epiphan Cloud.
Included with all Epiphan Pearl products, Epiphan Cloud was developed to simplify remote production. Whatever apprehensions the DELTA team felt about being spread too thin were relieved by its inclusion. They could configure and monitor over 300 Pearl devices on campus from a centralized admin panel on their web browser. Epiphan Cloud eliminated any need for legwork, making the scaled-up classroom capture more efficient to maintain than the previous iteration.
My favorite feature of the Pearl is that it works. It integrates into our existing AV infrastructure. And it's been cost-effective at the scale at which we were trying to increase our capabilities.
The Results: A dynamic learning environment for all
Pearl Mini was designed with reliability in mind. At NC State, over 40,000 students depend on the resources Pearl delivers to reach their full academic potential. And the DELTA depends on the Pearl Minis to uphold a 135-year legacy. By staking the success of their ambitious new venture on Epiphan, the impacts were tangible less than a year after adoption.
Beyond the classroom
Though making sure classrooms were capable of state-of-the-art capture was the priority, like any higher learning institution, there's much more going on daily than just lectures. NC State has also outfitted specialty spaces with capture technology, allowing the team to record, stream, and share special events, meetings, presentations, governance meetings, and more. With this, students, faculty, and staff can stay connected with all facets of university life anywhere, at any time.
Student engagement
Students who had long lobbied for an increase in classroom capture are taking advantage of the scaled-up resource. In two semesters with Epiphan supporting the expanded capture, recorded lectures have accumulated over 4 million views. Professors have noted that students rewatch lectures to prepare for assignments and exams. Students are markedly asking more specific and detailed clarifying questions about the material ahead of important evaluations.
It kind of lets them play the semester forward and backward.
It's a resource that's enhanced students who can come to class every day, a safety net for any student who is unable to attend in person, an important connector for online students, and creates a more accessible environment for any students with disabilities.
National recognition
In its annual survey of 1,600 online degree programs, U.S. News & World Report selected seven NC State online programs in the top 10 of their respective disciplines.
Student achievement is a major factor in each ranking, but U.S. News also takes into account services and technologies. As a result, the thoroughness and reliability of lecture capture have been a huge differentiator for online programs. Linda Krute, the Engineering Online program director, told NC State News, "These are online degrees, but for the students, the experience is the same as if they were on campus. The same courses, same faculty, same homework, same exams, and ultimately the same diplomas."
The ability to transport students from anywhere in the world into the classroom at their convenience will soon become the standard at NC State, thanks to Epiphan.
As more and more institutions like NC State see the impact investing in classroom capture has on the quality of education for their students and the quality of life for their faculty and staff, it will soon be the standard. And once classroom capture is standardized across higher learning, we all reap the benefits of accessible education.
Whether you have an existing AV infrastructure that needs scaling up like NC State or you're starting from scratch, Epiphan is proud to offer a full slate of solutions to make streaming, recording, and monitoring simpler and more efficient.
A land-grant institution founded in 1887, NC State University has a rich history of providing world-class education and supporting outstanding research. For over 135 years, NC State has been governed by the ethos of providing access to education for all.

Small in size, big on pro features
Record, stream, and switch up to three full HD video inputs from HDMI™, SDI, and USB sources with Pearl Mini™.

Get our lecture capture design guide
Learn how to deploy user-friendly solutions that anyone can grasp and create high-quality lecture recordings that engage your students. Download now!